NEWER ENTRIES

February 25, 2004 Entry 87

There's no point in lying, this has been a hard fucking week. I'll write soon if I get the will to.
---
February 19, 2004 Entry 86

CENSORED
---
January 31, 2004 Entry 85

Wow, another two weeks have gone by, and they have been the CRAZIEST weeks of my life!
OK, as some of you have already read, THE NEWS BROKE! I was awarded an official RIAA gold record for my work on the All-American Rejects' album. WOW! It is here, and it is the most amazing thing I've ever seen! I am still in shock!
And then, to boot, management put out a press release about my honor, and in less than 24 hours, it was picked up by 54 media outlets!!! Since midnight, the press release has gotten 194,000 views! Holy shit!!!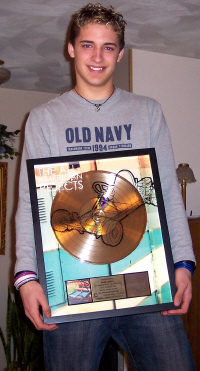 Those of you who haven't seen the press release can view it at http://www.prweb.com/releases/2004/1/prweb101835.php. Wow... I mean, WOW. Seriously, it's like this week has just gone by and I'm just in total disbelief of everything that has happened.

THEN, on top of THAT (as if it weren't enough), twilightsmoon.com got its FIVE MILLIONTH (5,000,000) visitor! Thank you to EVERYONE for making Twilight's Moon what it is now. I promise you, 2004 is going to be the most amazing year you've ever seen from me... I'm more energized than ever before... and with that comes ANOTHER announcement:
I am going into the studio next month to begin work on a HARD ROCK EP that should be out by June! NO, it doesn't mean "Broken Windows" is done, actually, it's selling VERY well. It DOES mean, however, that we're going to be taking on a whole new audience with this new disc. I'll be posting more info as soon as I get it.
Anyway, that's all for now. I'm going to take a mini vacation for the next week and will only be promoting the new record and press release, and maybe writing some new songs. How exciting!

I PROMISE, I'll update again soon. I love you guys SO much! Thanks 5 millions for all the support! :-)
-Brian
---
January 16, 2004 Entry 84

Holy crackwhores, it's been a long time!
I have been busy-busy-busy. BW is doing extremely well, and we're gearing up for a tour this spring, mostly acoustic shows, lots of exciting stuff.
There is a HUMONGOUS press release with AMAZING information coming out Tuesday or Wednesday of this week with a huge news break on it... that's all I can say, but you guys are going to be absolutely amazed, trust me. Man, is this ever-so-cool.
So I just finished an intimate promo concert and it's 11p.m., and I'm going down to Virginia tomorrow at 7a.m. to celebrate one of my best friends' birthday's. It should be very relaxing.
And that's it! I hope you guys like the new site, it will be updated in the next week, I promise.

Love you all,
-Brian
---
January 5, 2004 Entry 83

Hello my babies!
Yeah, it's 7AM, and I shouldn't even be awake, but I am.
So, I should mention, I saw the mother of the beast, Satan's heritage, you know. What a disgusting sight. She looked like feces, her hair all frosted and highlighted in an even more messed-up fashion than I thought possible. And her eye-shadow, GOOD GOD! It was just hilarious, she looked like a goddamn clown. And the teeth, with a gap the size of Texas. Whew, I'm still laughing from it. I would be embarrased to be seen in public if I looked like that.

Hope you got as good a laugh as I did. I love you!
-Brian
---
January 4, 2004 Entry 82
Today's Music: "Practical Magic" Soundtrack (Sorry, folks!)
Hello everyone. I'm exhausted and have no time to write, but just wanted to show you guys these real quick, since they're pretty exciting.
I should start by saying that in March I'm releasing an EP of acoustic versions of some "Broken Windows" songs as a split EP with Ill Equipped recording acoustic versions of their songs. It's been a lot of fun, and we even got some video of some of the sessions.
HERE is a video of Justin Ray, Ill Equipped's guitarist and assistant manager of my record label, overdubbing some guitar onto one of the tracks.
and HERE is a video of me recording an acoustic guitar and vocal track (that ended up being discarded) for "Steal Your Heart Away."
Anyway, that's all for now. I went out on an extremely pleasant date today that was a lot of fun and more laughs than I've had in forever. It was really great :-)
That's all for now! Hope you enjoy those treats!
Talk to you soon.
Love you!
-Brian
---
January 2, 2004 Entry 81

Today's Theme: Happy New Year!!
Hello! I hope you guys had a WONDERFUL New Years'! Mine was phenomenal, I spent it with some really close friends, and I got a rare chance to really relax.
Today, Justin (Protocol Records' Ass't. Manager) and Tony (Ill Equipped's Lead Singer) came to the studio and I recorded some tracks of theirs. We're going to be releasing a split EP featuring some acoustic versions of "Broken Windows" songs with five of their own. It should be very fun. Show booking is coming very soon, as you can probably guess. And we're promoting the hell out of the album. Look to find lots of info and reviews along with interviews ASAP.

How do you like the new design of the site?! I think it's awesome. I'm very pleased with it. Great job, Johana.
Also, we just posted some new pages, check those out. We've already gotten over 100 questions submitted in the last 24 hours alone for the "Ask Brian" page! I'll be answering more of your questions ASAP.
I've fallen in love, and her name is Loren. She's just drop-dead gorgeous, and smart, too. Here's her pic:


Isn't she INCREDIBLE? God, I go to sleep every night with happy dreams, I can tell you that much. I am so glad to be alive!
I am so excited about 2004! It's like a totally fresh start, and I can do it all knowing "Broken Windows" is finally OUT (and is selling almost TWO TIMES more than we expected! Wow!)
I want to take a minute to ask everyone to check out Nelson Mandela's amazing 46664 campaign. We've partnered with 46664 to do some charity work in the coming months, and for that I want to especially thank my good friend, Mr. Yusuf Islam. Visit the site at www.46664.com
Anyway, I'm tired as hell, so I'll talk to you soon!
Lots of love in a new year,
-Brian
---
December 25, 2003 Entry 80

Today's Theme: Merry Christmas!!
Hello everyone! Merry Christmas and Happy Holidays.
No time to write, as I'm spending the holidays with the special person(s) in my life, but I love you and hope you have a wonderful holiday. Starting tomorrow, we're promoting the new single!

Lots of love and light,
-Brian

Maybe we were together in another life
Maybe we are together in a parallel universe
Maybe our paths are not supposed to cross twice
Maybe your arms are not supposed to go around me
I hear about you now and then
I wonder where you are and how you feel
Sometimes I walk by..
And I look up to your balcony...
Just to make sure you were real



---
December 17, 2003 Entry 79

Today's Quote: "God, she's with him? He's disgusting! And he's the ugliest person I've ever seen in my entire life. I would vomit just looking at him."
Well said!

So, yes, how the hell are you?
It's midweek, which is when I make my fewest number of entries, but alas, I'm making one now, even if it only lasts for a few seconds.
I'm getting ready for the holidays, spending lots of time with family, etc. My 25 year old brother is home from Hawaii for the next several weeks, and my entire huge family is getting together this Saturday with my sister-in-law's family, and we're all just going to enjoy an evening together.

Now that I've got more money to spend on the holidays (as does my corporate tax attorney brother and my other SeaBee brother), we've gotten an amazing present for my parents for Christmas. I'll tell you what it is after the holidays.
Now, what's cooler than being cool? ICE COLD!. Lend me some sugar, I AM your neighbour! I'm... I'm... I'm... I'm just bein' honest.

So I did a lot of shopping and got some really great looking clothes at stores like American Eagle. I think I'm going to be finalizing my look in January. You guys still haven't seen pics of me since my teeth went 17 shades whiter! It's amazing. I love looking at the mirror. I'm so pleased with everything, I just feel so revitalized and excited.

This album is the culmination of everything I've wanted in a disc all at once. It's like having your firstborn child. You get excited when you have nieces and nephews, but even though I've released six albums prior to it, it feels like "Broken Windows" is my first true work. It's incredible. AND, you can stream songs from the disc NOW at the BW page!

SO, on that note, I'm out of here, but I'll write more before the weekend. Talk to you all soon!

Love and krishna,
-Brian
---
December 10, 2003 Entry 78
Transcription of a handwritten entry

Hey everyone!
You know how you feel when you come home from a particularly long and crappy day and you have a great time with friends and they're so nice and comforting? Then you just feel to warm and happy to be alive and with such great people? Yeah, that's how I feel right now. All warm and fuzzy, you know? It was a day that started out sucky but turned out great.

So I got the album and it is absolutely AMAZING and it's being shipped now, and we have it IN STOCK and it's going to the distributor THIS WEEK and you can order your copy today as they're shipping IMMEDIATELY... very cool! To all of you who have already ordered, yours is in the mail... they made a HUGE trip to the post office to ship everything.
I have NO time to write, but basically, that's the extent of it. So what happens now, you say? We're picking out a single and we're going to promote that to radio and take it from there. Touring of course is going to begin in earnest next year and we'll be promoting this all through 2004 and at some point in the near future I'll begin thinking about the next album but NOT before I spend a hell of a lot more time promoting BW.

To those of you who have said that you're extremely interested in the album but would like to hear song samples, have no fear! We've already uploaded those and will post them on the (*new*) "Broken Windows" page that is coming VERY soon (like by this weekend).
I'm doing all of this work in anticipation of the fact that I'm going to take a few weeks off very soon to spend the holidays with my older brothers (including the one who is flying in from Hawaii for 3 weeks), my girlfriend, and the rest of my family. It's time for a short break, and the holidays are the perfect time to take one. Whew, it's been a long year! I'm going to do a lot more personal reflecting as the new year draws closer, and I will of course give you all my plans and predictions for '04.

I've really got to go now, but look for lots of updates to the site in the coming weeks. I love you guys! Thanks for being such loyal supporters, you have no idea how much it means to me. My sun rises and sets with all of you!
-Love and Krishna,
-Brian
---
December 5, 2003 Entry 77

Today's Theme: Thanks, Barry!
So I talked to Barry, and he produced the album, and says it is wonderful! I couldn't be more excited! He fed-ex'ed it to me and I should be receiving it either tomorrow or Saturday. Then it's straight to the replicator and distributor and we're set! It seems like it's been SO long (and I guess that's because it has) but the new album is finally done and about ready to be shipped in its FINAL form to YOU, the consumer!

I just got off the drum set, which I was playing for almost two hours just messing around, but I was playing insanely hard and my hands are throbbing and I'm extremely hot. But, what else is new? (ha! I made a joke!)
Anyway, that's all. I understand that there are a couple other indie mags that are posting interviews that they've conducted with me a few months ago. I'll let you know when I find out when they're up and we'll post a transcription.

I've got to run, but I will talk to everyone soon!

Love you!
-Brian
---
November 29, 2003 Entry 76

Today's Theme: PARTAY!
It's about 7 o'clock and I'm all dressed up and beautiful (I really am!), and we're going to be getting outta here to go to this huge engagement party. My entire family is here with me, and this has just been a really good way to extend that Thanksgiving time into the weekend and let everyone be together. I saw my brothers for the first time in a while (it seems like its been so long). Anyway, I'm a bit rushed as it is time to leave, but I will talk to you all soon! Barry got the second master copy in the mail at the end of the week and he's going to be mastering it and the deluxe copies are coming back very soon. Yay!
I leave right from the party at 11:30 to head back to Maryland, where I can crash in my own bed at 2 or 3 A.M., enjoy a relaxing Sunday with friends, and then its back to tour rehearsal Monday morning. So, gotta run, love you!
-Brian
---
November 28, 2003 Entry 75

Today's Theme: Car rides are a pain
Hello from the road!

Today was a 500 mile journey from South Carolina to Virginia. Boy, was it exhausting. On the way, I bought loads of fireworks (you always gotta have fireworks), and we stopped countless times to eat and have fun. I'm in my suite in Glen Allen, which is very nice, and tonite is just going to be one night of relaxing and then I head to Richmond for my cousin's gigantic engagement party (and you should see the ring). Talk to you soon!
Love you!
-Brian
---
November 27, 2003 Entry 74

Today's Theme: Turkey dinner, turkey dinner, gather round...
Happy Thanksgiving!

I hope that everyone is having as great a Thanksgiving as I am. I'm enjoying it with lots and lots of family. Tomorrow morning I leave to go to Glen Allen, Va. I'm going to be there for a day or two and then I'm heading out from there. Gotta run again (this has been SUCH a busy week), love you!
-Brian
---
November 25, 2003 Entry 73

Today's Theme: Car rides are a pain
Hello from South Carolina! I'm on surprise vacation for Thanksgiving and will be staying here and then going all over the east coast for various gatherings and parties. I don't have much time to write, just wanted to say that I'm here and that the trip got in OK. I miss everyone already! Talk to you soon.
Love,
-Brian
---
November 16, 2003 Entry 72

Today's Theme: Laying back
Today was a great day... I got a lot of relaxing done, some reading, some writing, some demoing (yes, I'm at it again... but only at a casual pace), and some movie-watching. I saw the premiere of "Elf" with my brother and sister-in-law (it was a very cute movie), and did some acoustic tour rehearsal. Also, it looks like I'm switching bands and that after the acoustic dates, my band is going to consist of Tristan Jermann and Chris Echard, who were members of Twilight's Moon from 2002 to mid 2003. Sessions begin in earnest with them starting next week.

I can't talk, though. It's 1 A.M. and my eyes are drifting off (along with my head toward the keyboard itself). I will talk to you guys soon!

Peace and love,
-Brian
---
November 13, 2003 Entry 71

You should see me doing acoustic tour rehearsal... it is hilarious. I have no voice at all whatsoever because I've got a bad cold or the flu or something, and I'm just forcing out whatever I can get. Looks like I'm going to have to take the next three or four days off to recover and then everything will be back in full swing. Johana has got some incredible graphics going on, and Barry is getting his master copy this weekend, so everything is finally, after more than two years, coming together! It's all so exciting!
By the way, those of you who have written me asking about what's going on with the book... it is coming along just fine and will be out early next year. We pushed it back because of how much concentration we've had to put on the album itself... it's taking up all of everyones time.

It looks like the first leg of the tour is going to be acoustic and the second leg is going to be with the band. These are going to be two distinctly different shows, with distinctly different takes on my stuff. The acoustic shows may come as early as the end of this year. I'm hoping to join the Borders' tour once again this summer, and we're looking to even do significant West Coast touring (most likely acoustic-only) in the late Summer of 2004.

I'm going to be demoing songs starting now (would you expect anything less of me?) but we're going to spend at least nine months to a year promoting the album. In that time span, I'm going to release an EP of Eastern music, and that album will be called "East". Believe me, you'll have plenty of notice for that. I haven't even begun production on that album at all, nor will I even think about it for the next several weeks.

You may have also noticed that I've done a great deal of interviews lately. There are plenty more coming, and you should be seeing those in publication in the coming weeks and months.

Today I want to give thanks to
. Thank you SO much... you have changed my life for the better and I owe you more than you will ever know.

I've got to get going, I'll write by this weekend. Love you lots!
-Brian
---
November 9, 2003 Entry 70

WOW! What an absolutely AMAZING last two weeks!
The time has gone by so fast that I can hardly believe it. So, I'll give you a quick breakdown of what is going on.

"Broken Windows" has outsold all of my previous albums in preorders alone. So great, in fact, that I'm having the album remastered. I'm excited about that, as you can imagine. I've been reading some certain things, exploring, and finding out a lot of incredible things. I'm very excited about where I am right now. I've got some of the most amazing friends in the entire world, and we've just spent the entire week relaxing and laughing with each other... this has been a very cathartic week for me. I'm not healing from anything, but I'd like to think that I'm continuing to make myself stronger. I have some absolutely incredible people in my life. I really owe them so much.
To my new friend, John, I really value your friendship, and hope that we can continue to get to know each other better as time goes on, and that we may even be able to work with one another. You are amazing.
To my band: Steve, Aaron, Erica, and to Tristan, you guys rock, and I'm excited about our shows.
To Meg and Raq and Vicki, I love you very very much. Thank you SO much for being there for me.

Anyway, that's what's going on. Someone at Protocol is going to post the track listing and some low-qual samples so that you can get an idea of what the disc sounds like.
I guess that's about it. I'll write more tomorrow! Nite!
Love,
-Brian
---
October 26, 2003 Entry 69

Every little thing that you do
I'm so in love with you
It keeps getting better
I want to spend the rest of my life
With you by my side
Forever and ever


Isn't that SO sweet? I got home this afternoon to find that waiting for me. I almost cried! So, yes... I love you!

Johana is working on the art and says is going to be incredible. I'll talk more tonite... got to run!

Love, -Brian
---
October 25, 2003 Entry 68

Hey guys!
Whew, I finally have a few free minutes, so I'm writing.
The album is DONE! It's with Johana right now and she is actively working on the package design. It's going to be AWESOME, I can tell you that much. We cut the album down to 17 tracks (ha, as if that's cut-down!) and it comes in at about 55 minutes. I'm really blown away by it, to be perfectly honest with you.

Anyway, Promo-Only copies are available now and can be ordered from the "merchandise" page. Thanks to those of you who have (amazingly) already put in your orders. The staff has them "in-the-mail" and I hope you enjoy them.
Anyway, I've really got to get out of here, I have two interviews to do tonite. I'm featured in the October issue of Alternative Music Monthly, so catch that. We'll have a transcription up on the site soon.
I'm listening to the album now. Man, I am digging my own work too much.

Talk to you all tomorrow!

Love you!
-Brian
---
October 23, 2003 Entry 67

Once again I am pressed for time, but I'll try to go into a little more detail...
The book project is going great, and looks like it will be out in time for Christmas, and will probably cost $5. Shirts, buttons, and stickers are selling like wildfire, and I've already driven past THREE people who had the "Twilight's Moon Rocks My Socks" bumper sticker whom I didn't know. I found that absolutely INCREDIBLE.
Promo copies of the album will be released Tuesday, October 28, 2003. Yes, I am aware that this is a huge setback, but BELIEVE me, it's worth it, and you will be more-than-impressed with the album. And now, for some INFO on the disc: it's 19 tracks! It's going to run more than an hour long, and I will try to give you a finished track listing later tonite. The album totally ROCKS.

Gotta run and meet with the band! Talk to you later tonite (hopefully)!
-Brian
---
October 22, 2003 Entry 66

NO time to write!
Wanted to say Hi to everyone and that my week has been going PHENOMENAL. Also wanted to let you know that B.B.P. is going wonderful, and I'm even starting seriously on that. You all know what BBP is, I'm sure. Anyway, I've got to run, had a bunch of meetings today and they all went wonderful. Mastering continues all this week, and then it's straight over to Barry Wood! I'll talk to you all tomorrow!
Love,

-Brian
---
October 15, 2003 Entry 65

The waiting drove me mad
You're finally here and I'm a mess
I take your entrance back
Can't let you roam inside my head
I don't want to take what you can't give...
I would rather starve than eat your bread...

Hello to everyone out there!
This week is flying by, and it's already Wednesday! I can hardly believe it. Let's see, what's new around here? A few new members to the Protocol team, look for their pages going up soon. The album is rocking, and pre-sales have already surpassed sales of all but "Electric" and "Slope". It's surprising and wonderful, to say the least.
I got a domestic royalty check for "Electric" and decided to treat myself, so I got a custom Takamine! It is THE BEST and most easily played instrument I have ever own. In fact, it's so good that it flat-out amazes me every time I play it.
Tomorrow is a big celebration for my best friend's birthday. We're going out and doing something big. Remember, P, "Why in gods name would you want to wear [that color]? Why would you want to attract ANY attention to yourself?" HAHA! And to Raquy, "the teams is", I love you and so does mom. She thinks you're her daughter.
Ali, I love you.
Jihan, I miss you and I really enjoyedd seeing you this week.
Vicki, thanks for making me feel so good.
MV, I loooove you!
Talk to everyone soon! Stay well, I'll write more tomorrow!
Love,
-Brian
---
October 9, 2003 Entry 64

I light your cigarettes
I bring you apples from the vine
How quickly you forget
I run the bath and pour the wine
I bring you everything that floats into your mind

But you don't bring me anything but down
You don't bring me anything but down

Hey, I've got like no time to write. This week has been GREAT but very long. I've got 3" Five track BW EPs that are out now, and in addition, the book is coming out! This is my first book ever, and we've bumped back the release to accomodate the wealth of pages it's going to have. I'm really proud of everything. If there were two things I could say about my life right now it would be that I'm proud of where I am... that I'm TOTALLY content with everything and happy to be me.
I send my love and support to the Midkiff family. I'm very sorry about the loss of Gene, I was shocked and saddened and so was the entire team.
This weeekend is some mixing and mastering and most importantly, LOTS of rest. I've been chugging on like a machine this last month.
Love you all! Talk to you before Friday,
-Brian
---
October 4, 2003 Entry 63

Had a great night last nite! Got to hang out with Justin and Josh, had lots of fun hanging in Fells Point in Baltimore. I've got some pictures that I'll try to have posted tonite. WHAT an incredible week.
Tour rehearsals have continued and will go on for about three weeks or so, and then we take care of booking shows for the rest of the year and into 2004. Should be awesome. We're going to have two rounds of shows: the ones I do with Erica Whitsell, Steve Thompson, and Aaron Lewis and I as a band, and the acoustic-only shows that I do alone. It's going to be a great variety, and I'm sure everyone will love it.
Check out the merch page! We've got everything up, including the AWESOME T-Shirts. Check 'em out! We're already going to have to get a second pressing of everything done... I'm just amazed. Thanks for ordering everyone!

Talk to everyone soon! I've got to run and get some more tour-related stuff done. Love you guys!
-Brian
---
October 3, 2003 Entry 62

I choose to be her confidant 
And to keep her from the fire 
I choose to be quietly discreet 
If that is her desire 
I touch with gossamer wings 
To be quiet around you 
There is so much going on 
You could easily
Wake up with a stranger 
It's not something you plan 
One night in a world of pain 
And you finally understand 
Not all the king's horses, not all the king's men 
Could put it back together 

No time to write, I will talk to everyone soon! This week has been incredible! Special shot out to Raquy, my love... we're going to spend lots of time this weekend with my bud, Justin Pierre of Motion City Soundtrack. Hope your week was as good as mine! :-)
Love you!
-Brian
---
September 27, 2003 Entry 61

Where does the time go?!

Ok, I really do only have a minute to write, so I'll keep it short. Tour preparations have continued this week. In addition, I've been back in the studio cutting a few more songs. Those sessions went EXTREMELY well and I came out the other end with two GREAT new songs. I couldn't be happier.

The album is just incredible. I had a listening party for where it stands right now with some friends and they were blown away. I'm really excited, guys! :-)

Anyway, I gotta run. Thanks for putting in all those orders for the shirts, stickers, and buttons. I really appreciate it :-)
A shout out to the Raqmaster and to you-know-who. I love you. Talk to you soon! I'll write more tomorrow.

Love you!

-Brian
---
September 19, 2003 Entry 60

I'm a little lost
Let me find my way
I'm a little dead
Let me live
Been living in the past
Let me rise today
Led a selfish life
Let me give.

HOW LONG?
HOW LONG?
HOW LONG?
HOW LONG WE WAIT!!
Wait for the light that might light our way
Wait for the right twist of fate

You were livin' under the reign of kings
You were livin' under the gun
I know it made you do a lot of things
You wish that you'd never done

Going out with someone really special today! Also tour rehearsal. We've added two more to the setlist. Acoustic show booking dates should be announced soon. Band shows in November/December on.
Love you!
-Brian
---
September 18, 2003 Entry 59

It's already another weekend for me!
Well, I'm just sitting here preparing for the wrath of Hurricane Isabel. Doesn't look like I'm making any plans for tomorrow or friday, although there is more tour rehearsal to be done.
So, a couple of interesting highlights in the last week.
First of all, I've got to mention... for the three of you that understand it. "Can I see your license?" "Yes... License... AND GUN!!" Hahahaha! Those were tears right there. Tears of hilarity.

What else? Oh, I want to say hello to Nguzi, my good friend. I am certainly going to take you up on your offer sometime and just come stay and relax. I'm serious, too, Im really going to do it!

I want to give a special, special, special hello to a very special person in my life, Wendy. :-) You know how you can make me smile in an instant. No one can do that like you can. "Six kimonos... no... you're right... SEVEN kimonos!" Haha! Remember, 6 o'clock... TV hour! Ooh, or... "It's a raaaace!" There are just too many to name. I'm going to keep reading, I promise :-)


Yes, so... that is the summary of my week. I have to admit, I didn't realize how beautiful the world truly was until recently. You guys... at least some of you, most of you know what I'm talking about. Thanks for helping me get there. Man, BW just keeps getting mixed and mastered and keeps sounding better and better. The private concerts that we've been doing are absolutely INCREDIBLE. My voice on songs like SYHA, or (INY)P, or even IKINW is just shocking, even to me. I've really got everything together vocally, and I've been practicing everything so much. We went in and re-mixed the vocals to a few songs as well, all leading up to the true commercial release.

So, talk to everyone soon! Thanks for the star, Raquy!
Nite, everyone. Hope the Hurricane doesn't strike you!

Love,
-Brian
---
September 13, 2003 Entry 58

Happy weekend!
I literally only have 30 seconds to write, so I'll make this as truncated as possible. The SUPER special "Broken Windows" concert on Thursday was absolutely amazing and I've never had such a warm response. Thanks to those of you who heard about the underground show and came out, there were a lot more than I expected. I'm very happy you enjoyed it.
T-shirts are IN and are AMAZING. I'll have someone at Protocol post them tonite... maybe make a new store design. They're very impressive.
Broken Windows has an official release of October 14 to the general public. Keep your eyes peeled for that. We're taking pre-orders as of tomorrow.
Im hoping to report VERY good news to you in the relationship department next week. I'm SO excited! :-)

Talk to everyone tonite.
Love, -Brian
---
September 10, 2003 Entry 57

Hello on a fine Wednesday!
Today, I spent the entire day with a close, close friend, Seb, and we spent a lot of time talking. I haven't had such in depth conversations with such an intelligent person in a while. I've missed that. We talked for about 30 minutes about Warren [Zevon], how much he meant to us, how much we missed him, and just about everything else involving him. We talked about "The Wind" and how "Werewolves of London" is one of the most flawless songs ever made. We mentioned how great it would be to hear it again. So we turned on the radio, and sure as shit, 15 minutes later, it came on. We were almost moved to tears.... so we cranked it and started stomping our feet... and then officially agreed that "Werewolves of London" was our song. It was really one of those moments where you have to step back and say "god, did we just see into the future?" It was eerie... but it was a great feeling.

The rest of my day was extremely fun. I'm meeting with the publisher to discuss the "Broken Windows" book and T-Shirts are here TOMORROW!
Talk to you all soon!

Love you!
-Brian
---
September 8, 2003 Entry 56

Hello all!
Just a quick update to let you know that the concert could not have possibly been more mediocre. It didn't impress me at all.

T-Shirts are arriving this Thursday and will be on sale, along with the buttons and stickers, by this weekend.
I want to thank everyone I saw over the weekend, and those that I spent lots of time with, for making it one of the most incredible weekends I've ever had and letting me truly relax.
I love you guys!
Talk to you soon!

-Brian
---
September 7, 2003 Entry 55

And I carried on
Like I couldn't stop
All of it for us, baby
And you, you got in my way
Stood between me and my friends
It was my sin
It was my shame
You were unconscious to the pain I was in
I hear there's Trouble in Shangri-La

Hey!
So last night could not have been a better night. A friend and I ended up just driving around, doing some shopping, hanging out, etc. It was loads of fun. And then we found incense in my car. So we "hotboxed" the car (a term I learned last night, look it up), and burned half a dozen incense simultaneously. I was crying from laughter. And when I showed up at Taco Bell coughing up a lung and laughing until I was in tears and I paid the incorrect amount, the guy had to have thought I was crazy.
I'm getting ready to get dressed and get beautiful because I am going to a Dashboard Confessional concert tonite. I couldn't possibly know less of their music, but it's a gathering with a special friend, so I'm gonna go for it.
Hey, so that's the summary of my day. Except to mention this inside joke (gramatical errors included) "Many new athletes joins the team also returning athletes. Such as the key athleses... The teams is really enjured for the season." If that could POSSIBLY be laden with more errors, let me know. Haha!
Talk to you soon
Love you!
-Brian
---
September 5, 2003 Entry 54

Hey again!

Hope everyone has enjoyed this week... it's been a great one for me.
Yesterday could not have possibly been a more perfect day. I've had a very, very special friend who has had a terrible week and has been going through a lot. So I decided to invite her over. She came over and we went out to dinner with my parents, whom she finally got the opportunity to get to know more in-depth (although she had seen them several times before). Then we came back and took a while to just talk, and we watched the pre-season NFL thing. I was shocked by how many of the performers were blatantly lip syncing. Afterward, we watched some of the Redskins/Jets game (I NEVER watch football), and laughed uncontrollably at the commercials. In one of the commercials, a cashier at a grocery store says "I'm open over here," and this huge football-player-guy takes a pinapple and throws it from the back of the store and hits the cashier in the head. I was crying because it was so hilarious.

So, yes, taht's about it for my day. Today, I have an audition for a band, Blasphemous Jane, who is seeking a contract with Protocol Records. I'm having a friend spend the weekend at my house and we are basically going to just goof off and have fun for the next two days. Sounds like fun!
Talk to you all soon! Love you!
-Brian
---
September 3, 2003 Entry 53

Hello, everyone!

I'm back in Maryland after having a wonderful extended weekend of family and relaxation (and looking at gorgeous women).
My dietician has me on a crazy diet. It couldn't be more healthy. We're taking a total protein, low carb approach (it's somewhat similar to the Atkins diet). I couldn't possibly have more energy! It's something about the huge level of protein and the low carb content, or something like that... gotta love doctors!

A friend of my family, Donna, introduced me to her daughter, who she very much wants me to date :-). She was gorgeous, and 24 years old! I don't know what that has to do with anything, but I thought I would throw it in there.
I think I might be starting to get a cold, but it's not affecting me at all. You know, DayQuil during the day and NyQuil at night! I think it was something that I got from driving 1300 miles in three days.

I think that's everything... pretty sure T-Shirts are here tomorrow (I hope), and I've got stickers and everything. Those are all going up soon. SO... I will talk to everyone soon!

Love to you!
-Brian




As I stepped to the edge
Of the shadow of a doubt
With my conscience beating
Like the pulse of a drum
That hammers on and on
Until I reach the break of the day
As the sun beats down
The halfway house
Has my conscience beating
The sound in my ear
The will to perserve
As I reach the break of the day

When you lost all hope and excuses
And the cheapstakes & the losers
Nothing's left to cling onto
You got to hold onto yourself

A cry of hope
A plea for peace
And my conscience beating
It's not what I want for
It's all that I need
To reach the break of day
So I run to the edge
Beyond the shadow of a doubt
With my conscience bleeding
Here lies the truth
The lost treasures of my youth
As I hold on to the break of the day

When you lost all hope and excuses
And the cheapstakes & losers
Nothing's left to cling onto
You got to hold onto yourself

---
August 31, 2003 Entry 52

I'm still in S.C. and I'm having the time of my life!

I can only write for a second, but you guys would not believe the time that I'm having here in South Carolina. I couldn't have asked for better weather... as I sit out on the dock with a Guiness on one side and a LeBatt Blue on the other... it's the greatest thing ever! I could NOT have POSSIBLY had a more relaxing trip in my entire life... seriously!
The important thing that I wanted to tell you guys, though, is that it looks like it just might be a greenlight on project "New Girlfriend." I'll keep you posted! I already got more than 40 comments in 24 hours about the fact that I met someone new! I feel like Rick Rockwell here, everyone... except I don't suck as a comedian. :-)
OK, everybody, I'm outta here so I can go back on the beach!

Love you all!
-Brian
---
August 30, 2003 Entry 51

Hello from South Carolina!
I'm having lots of fun in south Carolina! I've taken the time to enjoy seeing family that I haven't seen, in most cases, in nearly five years. It's been a great experience to me... and its certainly done a lot to ground me and make me realize that there is so much more to life than just career, you know?
Speaking of there being more to life... I met someone new Thursday. She is absolutely Gorgeous and I was just completely knocked off of my feet when I met her... I didn't know what to say... so I think I said something silly and we both ended up laughing... and for the next couple hours, I don't remember doing anything except laughing and having a great time. I'm not used to having all of these genuine feelings, so it's really, really cool. Other than that, I've just been hanging out in South Carolina. I ran into a friend, in Maryland, and asked her what she was up to. She told me that she was going down and that she was going to be in Charleston, S.C. for the weekend... I was shocked. So, I'm thinking that she and I are going to possibly hook up tomorrow and spend the day together. It'd be great to introduce her to family and get to enjoy some time out.

SO! Other than that, nothing has been going on. In the middle of a ten hour car ride, Craig called me to let me know that the shirts were being shipped tonite, so that means that they will be here by the time I get home! Excellent! This means that I'll be posting them probably by Thursday! I know everyone is excited, and I've already told him that we're probably going to end up doing a second run relatively soon on black shirts.

And that's about the size of what's going on in my life right now. Pretty big stuff, don't you agree? And we can only hope that the relationship that I've got going on with this new girl will blossom... wouldn't that rock for me?

I've been listening to the new Alien Ant Farm CD. Go out and get it, it rocks. I'll be hooking up with them shortly, I hope.

I send lots of love to you guys! Have a great Labor Day Weekend!
-Brian
---
August 27, 2003 Entry 50

Holy crap, 50 entries!

Sorry in advance if there are spelling errors in this entry... I'm on my laptop in Virginia, because it looks like I'm going to be in Virginia, DC, North Carolina, and South Carolina for most of the rest of the week on business.
I, once again, had the most amazing day. I happened to go outside, and it was REALLY getting ready to storm BAD, you know, when everything looks like it's just going to bust loose. And there was so much energy in the air, and it was 6 o'clock at night, but it was dark out, and there was just this ominous feeling in the air. It's one of the coolest things I've seen in a long time. I just stood there in awe of how beautiful it was outside. And then I watched the lightning strike... and it was so agressive against the contrast of the bloated storm clouds. I must've written fifteen different pieces about the storm alone.

And then I get a huge e-mail, and it's from my baby! She said what was, hands down, some of the most romantic things that I've ever heard in my entire life! She told me about how she had a dream... that she and I had a baby, and that the three of us were cuddling in bed, just laying together falling asleep, and we put the baby to bed, and you can only imagine that the remainder is incredibly sweet and romantic... but just the way, the delicate way that she described what we were doing blew my mind. I'm definitely not used to someone being so sweet. Anyway, I love you, honey!

That's all for today! I'm going to get SO much done tomorrow, and I can already promise you that it's going to be GREAT... then, Friday, I'm outta here! I'll be back and forth, like I said, for the rest of the week and into next week. I'm quite excited... I'm going to try to make as many entries as possible.

Nice talking to everyone! I was shocked when management told me that I got FORTY e-mails yesterday. You guys kick ASS! I love you!
Keep in touch. And thanks again to Pirnaha for getting everything done with Wazimbo.

I love you much!
-Brian
---
August 26, 2003 Entry 49

Hello all!
How are you doing? I hope you're having as wonderful a day as I am! This last month, I swear, I have been on cloud nine.
So it looks like I'm going to be writing some texts. As a matter of fact, I may actually be collaborating on a book that will use some of my knowledge of clinical psychiatry. Keep your eyes peeled for that, I'll try to have more information soon. Thanks to everyone at Little, Brown, and Co. Publishing for that opportunity.
Also, I may be going in for interviews on VH1's new "I love the..." specials. I was going to do the "I Love The 80s: Strikes Back," but management and Vh1 didn't get in contact soon enough.
Tour rehearsal is going on all this week... which means that we are going to be ready relatively soon to get some shows done! I'm very, very excited about all of that. I'm hoping to actually get fullblown touring done. I have the excitement, the energy, the band (I love those guys), the happiness, the dedication, the ability, and the time to actually tour for this album, and I couldn't possibly be happier about that.
Thanks for the wisdom, Stephanie. This is for you. Remember, not all the kings horses or all the kings men could have put that back together again. :-) I'm glad you taught me when to walk away, and when to know that we were such cool people.

Oh, yes!
Make it always like this
Make it always this fun
Make me wanna run outside
And scream
And shoot down the sun

Oh yes!
Keep it always this bright
Let me cling onto your heart
Ward off the night
Make the sky my door
Cause I just wanna open my arms
I know we'll go so far
Forevermore
And to everyone who is new in my life in the last two weeks... Vicki, Kala, and everyone else... I love you all! And Hal, I hope you weren't scared off by how excited my management was. They're great people, and they're so excited for me to collaborate and meet with some great new people. :-)
I love you guys so damn much.
-Brian! :-D
---
August 25, 2003 Entry 48

Woo!
Guess what? I spoiled myself. I bought a new mattress and boxspring! It's that new NASA stuff that custom countours to your sleep number whatever so that you're as comfortable as possible. MAN, is it comfy. I just couldn't be more excited about all these fun new things I've gotten. Oh yeah, and I got this pillow... it's a space pillow (like the matress), and it contours to your head. Pillow was more than a hundred bucks at the technology store! :-)

Thanks for all your letters! I love you!

That's all for now. I'll write more later!!
Love you!
-Mr. Happy (that's me!!) :-)
---
August 23, 2003 Entry 47
What's cute about little cutie?
It's her beauty, not brains!
Old father time will never harm you
If your charm still remains
Keep young and beautiful
It's your duty to be beautiful
Keep young and beautiful
If you want to be loved
Haha. So, what, my children, is new?! Yes, it's been a wonderfully long week. I did a few newspaper interviews in the last few days. Ill have them transcribed by someone and posted within the next few days. I'm telling you, they're really good. I was called the "second most handsome metrosexual man in the world." I guess that means that the first most famous is still David Beckham, damn it.
Ah, what else is up? I've been doing tour rehearsal all week. The touring band is comprised of myself on Guitar, Lead Vocals, and Keyboards, Steve Thompson on Guitar and Vocals, Aaron Lewis on Drums, and Erica Whitsell on Bass. Those are my babies right there, those three. Oh, and our roadie, Raquie! We're a kickass group. Look for lots of shows October or November through ? 2004. I've also been hanging out with some girlfriends lately. Ash, I love you!
I've taken a look at "Broken Windows" the book, and I must say, I am quite impressed. That has been one of the coolest things that I've ever done. Also, the T-shirts are going to be great. The design is the new "talk to the hand" brand that we're pushing right now. It is really, really cool. We've also got the "Twilight's Moon Rocks My Socks" brand that is going to be found on some shirts and stickers. Those are going to be up and for sale within the next week, I guaran-damn-tee it (no pun intended).
Yeah, there are lots of freaks out there, and I had to go and meet several of them over the years, but that's ok, because I am the best person that I've ever been in my entire life right now. Now. Without the baggage. I couldn't ask for more... and I know it's getting old, but I could not possibly be happier in my life. I've got everything! I've got the cash, the girl, the love, the music... absolutely everything. What can I say? I guess if you do good things and live well and really deserve to be rewarded, you do.
It's all about my Karma. It really is. What good karma. Rock on! I'll write more tomorrow!
Love,
Brian
---
August 19, 2003 Entry 46
Come on let's go!
I'm very excited about the book. I think it's a great companion to the album. I'm contacting Wendy Robie, a genius of stage and screen. Her portrayal of "Mommy" in "The People Under The Stairs" is easily one of the five greatest female lead roles ever on screen. I don't know why I love that movie so much. I remember seeing it in 1991 in theatres, and it's been my movie ever since. Everett McGill, you are god.
I want to thank you (you know who you are), once again, for having me over this weekend. I had unspeakable fun. It was a great opportunity to relax (as if I needed it, ha!), and enjoy some private time.
Go me! I'm doing absolutely excellent. I swear, if I keep on this level, I'm going to end up married in a year, and I'll have put out seven more albums! Ha!
Love you!
-Brian
---
August 18, 2003 Entry 45
Geez, another week has gone by already.
This has been an absolutely incredible week. Promotion has been going great on this disc, and we're releasing "Broken Windows: The Unabridged 2003 Writings" as a book next month! I'm so excited about the opportunity to publish my work as a book. Thanks to everyone at RH Publishing for that. I owe you guys big time.
I spent the entire weekend with my babies. This was the most relaxing weekend that I've EVER had. First we watched "The Big Lebowski." HAHA, that is the funniest movie of all time. We have more inside jokes about that movie, I think, than anything else. "Nobody fucks with WHO'S Jesus?" Haha. Yeah, and then we watched "The People Under The Stairs." That is officially our movie. She and I got so into it. "He did it with her, I KNOW it!" And then came "The Mothman Prophecies," the creepiest movie of all time. "Vhat happened to my vife?" Haha. And last, but certainly not least, "The Pledge," featuring our song, "Nwahulwana" by the Orchestra Marrabenta Star de Moçambique featuring Wazimbo. The song brings tears to my eyes, and only we know what the translated English lyrics mean. I talked to Wazimbo on the phone this week. I love him. He is pure genius, and his ideas for music make me want to run out and write 1000 songs. I offered to possibly do a duet with him, and he obliged. I think I get a lot of the serenity in my music from him.
Yes, so, as you can tell, I am so extremely happy. I am not used to feeling like this, genuine happiness. I love spending time with the people I love. It's my favorite thing to do. After music.
Johana, thank you thank you thank you. Craig, the same to you. I appreciate you calling to check and see if everything was OK. I can't wait to see everything finished.
T-SHIRTS will be available in the next week! Look for them on the site!! Yes yes yes!
I love you!
-Brian
---
August 12, 2003 Entry 44
How has your week been?
Well, I had a legendarily good weekend! I got to spend two straight days straight with my favorite person in the entire world. She is wonderful, and I am finally, really in love for the first time in my life. Hooray!
"Broken Windows" is the greatest thing I've ever laid my hands on. Man, am I ever proud of myself. You will be too! Also, in case I haven't mentioned, I've signed a button, sticker, and shirt deal, so you will see those discounted items on the site ASAP! The buttons are going to be $1, the stickers $.50, and the shirts $10.00. Aren't those some damn fine prices?
I want to marry Andrea. God, I love you. C'mon, what do you say? :-)
Johana, WHEW, you've had an exhausting load this last month and I really appreciate you doing everything at once.
Craig @ Under ground squeegee, thanks for being so patient and helpful.
And, yes, you. A.L., most of all. I love you mucho! I can't wait to see you tomorrow!
Sorry, I know I seem to be constantly thanking everyone, and I am, but it's only because there are so many great people in my life now. FINALLY, all the losers are gone and the real friends and true loves are left behind. Yes, the feeling does remain even after the glitter fades. By the way, did I mention that I hate whores? And liars? And ugly people? Yeah, thank god that's out of the way.
Keep in touch, I love hearing from you guys! I try to respond through management to as many requests as possible, but you all know how busy I am right before an album comes out. Still, I really appreciate it. I love you all. Especially one of you :-)
-Brian
---
August 5, 2003 Entry 43

YOKO ONO IS GOD
---
August 5, 2003 Entry 42
I'm going to try to bust this move as fast as possible, cause I have about 30 seconds.
How has the last few days been for you? I've been doing absolutely awesome, I just can't even believe how good things are.
I've been listening to "Broken Windows," and I really am in love with my own album, haha. It's officially released TODAY!! Anyway, that's the story.
So we went out ring shopping. I had the greatest time of my life. And I found one that I absolutely LOVE, Black Titanium bands, with platinum inlays and matching platinum bands, we got it. GOD, they are gorgeous.... you'll see it on my ring finger in the upcoming promo photos that we're taking. I've never seen a ring that costs so much, but it was totally worth it. I love it!
OK, gotta run, talk to everyone soon!
Hugs and kisses, especially to some people,
-Brian
---
August 4, 2003 Entry 41
I am getting so good at this!
I had a great time this weekend on 'business' in Virginia and was extremely glad that I went. Thanks for having me!! I had a great time meeting Heather and her parents too. Muchos gracias.
"Broken Windows" kicks big ass and I am so proud of it! Oh yeah, Promo Merchandise is coming your way ASAP! You're gonna love it! Talk to everyone soon, I'm outta here!
-Brian !
---
July 31, 2003 Entry 40
Hey!
I had to take this opportunity to thank some people. Consider this a time-sensitive place for me to thank those people that have supported me a lot in the last few weeks.
-Ali, my savior, my princess, my #1. I love you love you love you! Thank you so so very much for being there 24/7, letting me stay with you and come over ALL day, and being incredible and so supportive. I can't wait to see you again. I LOVE you!
-Meme, who is really really incredible and extremely supportive. I appreciate you being there at all the right times for me. <3
-A.L., the wife. You have been an inspiration and a great great person, and I totally love you.
-DRM, one of my best friends over the last five years. I owe you more than you will ever know. We were finally able to share the circumstances, and I truly appreciate that you were there for me. Everything I do is dedicated to you. I absolutely love you with all of my heart.
-PED, the best friend I could've ever asked for. You rock.
-Ms. Silva, for slapping me silly and telling me what to do and telling me that Winston isn't good enough! Ha! You were so wrong (well, at least about the latter), but you're still welcome to have one.
RQ, I love you!
I love you all!
-Brian
---
July 28, 2003 Entry 39
Hello again.
You all asked me to make more frequent entries, so here I am! The album is finished.... and it ROCKS.
I have spent the last several days relaxing with my girlfriend. We've taken the opportunity to do a lot of shopping, to watch a lot of movies, and spend a lot of time together. Guess what? Yes, I am truly in love for the first time in my life. And it's wonderful. I'm so glad that I've finally found happiness for the first time ever. And I thank you all for supporting me. So, with that having been said, Im going to start Round III of question-time, where I answer questions you've sent into me. And with a random selection, here goes:
1. "How long has it been since your last album?"
Thanks for your question. My last studio album was November 2001's "Emergency Exit." Since then, I have released the "Close to Me" EP and my trance album, "Electric." And, of course, my upcoming "Broken Windows."
2. "When did you start writing music?"
I started writing music in 1993, and started working on making actual rock songs in 1996.
3. "I'm sure your days are pretty filled up, but could you give us a little insight into the day to day. Do you spend a lot of time with family and friends? Thank you so much for taking more time out for your fans!!!"
No, thank you. My day to day is involved with a lot of writing and recording, which usually runs a span from mid-morning until early evening. I also exercise whenever possible. Like everyone else, I love to shop and spend time with friends.
4. "Where do you love to visit, but would never want to live?"
Canada, to visit the wife, A.L. (ha!)
5. "How in the world do you get your hair to stay that way?"
Haha! Now that's a secret I'll never tell.
I love you guys. Talk to you soon,
-Brian
---
July 20, 2003 Entry 38
Man, some people just cannot take a hint!
I think it's funny that despite the fact that I've purposefully gone out of my way to ignore the ignorance (yes, ignore the ignorance) of a choice few people would get across to them, but it doesn't seem to work. I guess I need to regroup and realize who I'm dealing with here, and maybe I need to take a few steps back, and a few steps down to get my point across. Know what I mean?
In other news, I spent the weekend at my new girlfriends' house, and had a great time. I got to hang out with the family and all, which was quite tolerable (for the first time in my life). Yeah, so life is good good good. I'm finishing up on "Broken Windows", trying to meet my August 5 deadline and loving life for the first time in years. As my good friend Justin of the Motion City Soundtrack would say, "Go, BRIAN!" :-)
Much love,
-Brian
---
July 16, 2003 Entry 37
Hey, it's Justin.
Well, here I am, "in a sense", the new guy to Protocol Records. Sure, I've been around for a bit over a year, but now im a part of something. As the new assistant manager I'd like to start by saying, none of this would be at all possible without the support of all of the people who come and read this and enjoy the music as much as Brian and I do.
I guess to start things off I'd like to say It's been a lot of fun working with Brian on this new album. Brian is the first person I find that works at my level (or maybe I work at his). Either way, I'm looking forward to working with Brian to bring you all bigger and better things from Twilight's Moon.
Thanks.
Peace,
Justin
---
July 15, 2003 Entry 36
Hey all!
How is everyone doing? Justin and I are almost finished "Broken Windows." We've got T-Shirts and Stickers and Buttons being made as we speak. It's great. The album is the greatest thing I've ever laid my musical hands on, and I am so very excited to share it with the world.
On a personal level, I am doing EXCELLENT! Yes, oh yes, I am finally EMANCIPATED!! I have dropped the incredible worthless baggage that was my fiance. It was the greatest thing that has happened to me since I can remember (thank you god). Just to be FREE from all of the SHIT that that relationship brought, to be free from the worthless shit that she tried to put on me, to be FREE is the greatest thing in the world. People, if you are in a relationship with a worthless person, GET OUT. You will be SO much happier. I almost don't know what to do with myself. I feel like just running outside and screaming and saying "YESSSSSSSSSSSSSSSSS!" because that's how I feel about life now. How lucky do you have to be to be released from someone who doesn't deserve a single second of your time but you accidentally spent 20 months with them? I'm that lucky person. I don't mean to gloat, but I'm so fucking lucky to be able to live my life again that, like I said, I almost can't control my happiness and excitement. You guys can practically expect an album from me twice yearly again. I am finally myself again. I am finally the person that I should have been for nearly the last two years. I am finally, finally single, and Im so happy because of it. I almost don't know which girl to go out with first, so hell, I'm just going out with them all! Im having fun for the first time in almost two years. Can you believe it?
Yes, I love you all. Well, most of you, anyway.
-Brian
---
July 6, 2003 Entry 35
Hello from Vancouver!
All of the shows and everything are going great.
I am in a huge hurry and I am on my laptop and I am being charged a shitload just to connect to this damn internet and my laptop's keyboard sucks so I can't type but like 30 words per minute (and I usually type over 130).
My attempts at scoring a date with Avril Lavigne have been thus far unsuccessful. Ha! Just kidding.
Ok, everyone. Hugs and kisses from Canada.
-Brian
---
June 29, 2003 Entry 34
Good evening everyone!
How are you guys? I hope that you are doing well.
Lets see... what has been going on? Almost too much to mention. I'm enjoying spending some of the royalties that I've been collecting over the last year or so. I just got a custom made Fender Strat '57, which is the guitar of my dreams. Ive also been eating out non-stop for the last month or so, and have just been lavishly spending. I love it, though.
Next week takes me to Vancouver, British Columbia for the week on a business trip. Doesn't that sound fun? You're damn right it does! It's going to be lots of relaxing and lots of work.
Anyway, finishing up on "Broken Windows" is coming along very well and I hope to be finished with it BEFORE I leave next Friday for Canada. We'll see.
So, yeah... I have so much to say but I'm just so exhausted that I'm going to end here.
I love you guys! Talk to you all soon
-Brian
---
June 17, 2003 Entry 33
You gotta love friends...
I've been taking the last week to relax, but I've also been keeping in regular contact with my new friend John Sutton (see entry 32) from the Weakerthans. He's having a great time on tour, and he and I have been throwing ideas around back and forth about what's going on after that.
I've also formed a partnership with a good friend of mine, Len Howlett. He and I are going to be writing songs and licensing them starting this fall, so be prepared to see lots of our works across many genres!
Recording for the next EP/Album is going GREAT, and I expect it to be out in early August.
Anyway, I really gotta run... I'll answer questions next entry! Make SURE you go to the Music page and check out the lyrics for ClockWork, Emergency Exit, and Close to Me!
I love you guys!
-Brian
---
June 5, 2003 Entry 32
What a great week!
While writing songs for "Broken Windows" and doing lots of fun stuff, I just took the last couple days off to hang out with my great friends in The Motion City Soundtrack. I had a GREAT time, and got to see Jesse, Tony, Josh, Matt, and my very good friend, Justin.
Justin and I actually got to hang out for a few hours, which was really great. And he introduced me to John Sutton, the bassist of an INCREDIBLE band, The Weakerthans. They are really cool, and I definitely made a friend in John, too.
Anyway, that's all! I will post some pics of Justin and I soon I hope. We got to take lots, and it was great. Love you guys! Thanks for all the support!
-Brian
---
May 19, 2003 Entry 31
OK, some new developments for everyone!
I've been taking a short break after finishing "Electric" and promoting it and all that fun stuff (of course, being that it is a trance album, and was performed in its entirety by me alone, it's going to be pretty challenging to take the album on the road, so I'm just not going on the road with it at all.
What I can tell you, however, is that I am in the midst of a new EP right now with the newly re-formed Twilight's Moon which will be called "Broken Windows". I can't say much, but I will tell you that it should be due out by late July/Early August.
It's 3 in the morning, though, so I should probably run and get some sleep before I pass out!
I'll talk to you guys soon, I just thought that I would drop you that quick line and let you know about the forthcoming EP. OH, by the way, it has a creepy cover. Just wait till you see it.
Adios!
-Brian
---
May 3, 2003 Entry 30
Yes! It's true... I'm responding in less than a week!
Sorry, I forgot to mention a few things, and since I have one hot minute before it's time to get to bed and get a quick four hours of sleep before a long day of sessions with Tristan tomorrow.

Yeah, so item number one. I forgot to mention that Twilight's Moon will be touring for the FIRST time in THREE years this summer! Those of you who have seen a dozen TM shows will finally get an opportunity to see me at my tightest and best playing/singing ever. Those of you who have never had the opportunity of going to a show will finally get to! I'm hoping to get an itinerary lined up ASAP.
The second thing I forgot to mention was just that I've had the great opportunities to hang out with some really good old friends of mine. My first set of buddies I got to hang out with were the members of the All-American Rejects. It was good to finally see Tyson and Nick for the first time since the re-release of their album. And then I headed out the same week to do some work for my good friends Motion City Soundtrack. Then I met with my friends from Lifehouse. It's been an exhausting two weeks, jetting back and forth to catch up with everyone, but it was great to see everyone and finally get some time outside of the spotlight to just hang out. Hopefully, I'll have some pictures up soon for everyone to check out.
Talk to you guys soon! I hope to have more details on the tour and information about an EP coming out early this summer (!)
Love,
-Brian
April 30, 2003 Entry 29
Electric is OUT!
Thank fucking god. I finally got everything together and DONE and it came out on April 8th. WHEW. Go buy your copy now, it's a great album.
I'm working on the NEW rock album now. Whew, so much work. And now, for the BIGGEST news I've probably offered you in the last two or so years: I have invited two awesome musicians, Tristan Jermann on drums, and Chris Echard on bass, to join Twilight's Moon. You read correctly: for the first time in almost half a decade, Twilight's Moon is officially a trio.
Yes, I will still be writing the bulk of the songs, doing the bulk of the performing, etc. This is still my band, most definitely, but these two great musicians are not just touring members, they're not just studio sit-ins (as if I've ever had those!), these are PERMANENT members both for studio and touring purposes, and they're even going to get to help me write some music, etc. It's a TOTALLY different direction for Twilight's Moon. Full speed again. You guys are going to love it.
We had a great time in the studio today. Chris was working on a bass part for a new song and after several tries he got it down (it's a REALLY demanding bass part). We had been recording for countless HORUS. And then Tristan sat down to play his drum part, and it's SUCH a hard part to get down, he kept slipping at one particular fill. I'll tell you, he's such a great drummer. He just kept trying and trying, up to over 100 takes. And Chris and I were giving him such a hard time, it was hilarious. We were both playing the "Air Drums" right in front of him and teasing him. It's more fun in the studio than I've had since I started. It was great.
Anyway, I've got a huge day ahead of me of promotions tomorrow including a radio show before 5 in the morning (!!!!). Wish me luck!
I'll talk to you guys soon! Keep those letters coming! I really appreciate all the encouragement and support! I love you!
-Brian
---
March 21, 2003 Entry 28
Hello everyone!
How are you guys? It's been quite a long time, I know!
WELL, "Electric" is almost TOTALLY done! I've been working and working night and day on it. I COMPLETELY remixed and remastered the title track, so those of you that have heard demos of the album already, be prepared for some HUGE surprises (I even managed to sneak in some piano, and it actually works)! You guys are going to love this album, I promise it to you.
On top of that, I'm working on lots of stuff for the new album. I don't even know what it's going to be titled yet. I was so sure that "Epic" was going to be the title, and it still might work out that way, but I've been toying around with other ideas as well. Who knows at this point?
SO, yes, so much is being done at Protocol Records right now! And on top of that, as I'm sure most of you know, I let my manager of over seven years go last month. It was a hard decision to make, but ultimately it will be in the best interests of both Twilight's Moon and Protocol Records. Onward and upward, indeed!
For the time being, I suppose you could consider me the manager, but the thought of that is a bit laughable. I've still got Johana, and everyone else, of course. So, Protocol Records is definetly still here and definetly 100% intact. I expect to hire a new manager by the beginning of the third quarter.
Oh yeah! For those of you on the west coast, you just may be able to look forward to some Twilight's Moon appearances and maybe even a few concerts! I'll keep you posted.
I will be talking to all of you guys soon! Feel free to write me and let me know how you're doing, I love hearing from you guys!
Thanks so much.
-Brian
---
December 30, 2002 Entry 27
Good morning!
Well, I'm trying to stay more punctual. It's only been a few weeks since the last entry.
Yes, I've been quite busy. I'm still very tired, but I'm starting to feel better. I'm trying to regulate my moods and emotions more and I'm trying to start living a healthy lifestyle again.
I signed a new band, John Doe and the Unknown Articles, and they had their first demo session with me yesterday and did quite well. It was a fourteen straight hour day for me, though, so I'm exhausted! I'm also working with another band right now and organizing them. Furthermore, I'm finishing up Electric (still), and I'm working on the new album! I've already got some songs demoed, and I'm having a lot of fun doing it!
Anyway, I've got to run, but I hope everyone is well, and that you all had a great holiday. Happy New Year! 2003 is going to be big for Twilight's Moon and Protocol Records!
Love always,
-Brian
---
December 13, 2002 Entry 26
Hello everyone! Happy holidays.
How the hell is everyone? Sorry I havent written in almost 2 1/2 months, I've just been so tired. I am definetly starting to feel better at this point.
Thank you so very much for all of the well-wishing e-mails you guys have sent. I've read them all!
Yes, I know it's been over a YEAR since I've released a long-playing album. And, unfortunately, although I definetly have some, I don't have volumes of work ready to be recorded like I have in past instances of breaks in-between albums. So anyway..
What HAVE I been doing, you ask? I have been resting, definetly. I have been enjoying spending some of the money I've earned through the years, And I've completely purged the studio and reinstalled it with a new drumkit, new keyboard, new recording computer, new electric guitar, new bass, and more. Yes, admittedly, the studio is pretty kickass. Also, I have been working on some new demos, and I've been signing all sorts of 2003 promotional contracts. Looks like when Electric finally IS finished that it is going to be aggressively promoted throughout the east coast and beyond. We've already placed an order for thousands of promotional stickers, so let me know if you'd like one of those or anything like that and someone will get it out to you. Also, I've been planning the album after electric, which should be out in the early summer, and I'm looking to have lots of great guests this time. Everyone should love it.
Anyway, I've got to leave. I've got a meeting tomorrow I have to prepare for, a conference call, and lots of promotional proposals that still need to be sorted through.
Nite! I'll try to write back to you guys sooner.
Love to all,
-Brian
---
October 5, 2002 Entry 25
Twenty five entries! Now that's something to be proud of.
Yes, still trying to recover. I'm still chronically exhausted, but am definetly getting better. I just need to stay on the right track, get lots of rest, and continue my determination to recover.
I've been slowly finishing Electric, and it's coming along quite well at this point. The record has some FANTASTIC songs that I am extremely proud of. I think you guys are really going to like it.
I hope everyone is going to see "Red Dragon," it comes out today! I'm very excited, I'm going to be attending the premiere tonite. Also, I will be running 3.1 miles in the Komen Baltimore Race for the Cure (for Breast Cancer).
Anyway, busy evening. Got to go if I want to make the premiere.
Love to all,
-Brian
---
August 31, 2002 Entry 24
Yes, yes, I am still here!
Im sorry. I have just been.... out of it.
Have I finished "Electric?" No. Unfortunately, I haven't even gotten the damn thing finished.
I have been exhausted. I have been sitting around with a blank stare without the ability to get anything done. I cannot lie to anyone, I am still recovering from some very serious things (fatigue disorders, depression). It's a very hard thing to say publicly, but yes, it seems I have had, and am still going through a breakdown. I certainly wouldn't be the first artist to do such a thing, but it's so hard for me to admit that, indeed, I am going through a very rough stage right now.
I still hope to have the "Electric," album out this year, but I have been instructed to take some time off and recover. Four years ago, I never thought that the consequence of working as hard as I did, as hard as we all did, would lead to such serious problems now. I never thought I could affect my health long-term due to my actions across many boundaries so long ago, but I'm paying the price now.
It's taken a lot of courage to come out about something like this, but I've been receiving massive amounts of "Where are you?" e-mails, and I felt that it was neccesary that I respond to all of the rumors. Am I leaving the music business? Definetly not. I think that people need to realize that I've spent the last FIVE plus years of my life working non-stop on music. Five albums and an EP released since '98! And people still wonder why I am crashing now. Even worse, I ignored the small signals, like growing fatigue, etc.
All things aren't bad. Yes, I've taken the year off to recover and to heal, but so, too, have I taken the year off to fall absolutely head-over-heels in love. This is another important part of my life that I am making public. Yes, I am very crazy about the love of my life. Her name is Jenn, and we have been together for some four months. For once, I feel absolutely complete in that area of my life. It's a feeling that I never want to end.
I've got to get to bed. I'm hoping to spend at least a few minutes tomorrow preparing to record or do something, but we will see what happens. I am SLOWLY regaining my energy and my desire to work. Hopefully I will be able to get somewhere soon.
Thank you for all of your continued support. It means so much to me.
Much love to you all,
-A-slowly-recovering-Brian
---
July 28, 2002 Entry 23
I've got five minutes, let's make it count!
OK, the plans for the "Songs under the moon" EP folded, because the plans for Protocol to go public took over available recording time. I am, however, presenting a new package that I LOVE and I KNOW you will to. On September 24, 2002, I will be releasing an album of completely new material titled "Electric."
No. This is not my regular pop/rock. I've decided to temporarily retire the pop/rock outfit in favor of club/dance/trance music. Yes, I'm making a trance album! I'm serious, though, you're going to love it. It's trance from the aspect of a rocker. No, there are no guitars or the like, but it still has my background, the background of a rock artist. I don't think there have been too many artists to crossover from rock to trance, so that's already got me excited (you know I love to be different), and besides that, the response from the people that have heard a few of the promo songs has been incredible: they love it! So, yes, I'm very excited.
I've been asked already "What does that mean for your rock fans? Well, certainly I haven't abandoned rock for good! I'm still working on what will be the "Epic" album, although the likeliness of an EP prior to Epic's release, especially in the rock genre , is slim to none. Those who want to hear the songs that would've been on the "Songs" EP will just have to wait for "Epic." When will it be released? Sometime by mid-2003, I'm sure. I can't live on Dance music forever, but I really love what I'm doing at the moment. Will I ever make a second dance album? It's a definite possibility. This style has inspired my creativity in wonderful ways.
I suppose that's it for now. Look for more info soon about "Electric." It will also be sold at a low introductory price. I think it ships for less than 10 bucks. Very cool.
Thanks for your continued support. I hope you will like my new efforts,
-Brian
---
June 12, 2002 Entry 22
What a long month May was,
Wow, I am doing great, though. Several private concerts.... and I'm happy to be done with all of that. This summer, I will be doing more concerts.
I have an EMERGENCY press release for you all.
**********************************
On July 2, 2002, I will be releasing a new EP, "Songs Under the Moon." The EP is an extension of what already was the "Close to Me" EP, but this time, a few new (and really, really) good songs are being added. Also, the price of the new EP at some retail will be as low as 4.49! (That's a hell of a price).
**********************************
The decision on this EP was just made very recently, which means the amount of time for magazine promotion, despite the relatively large budget, is absolutely zero. That's OK, though, because this EP is more-or-less an EP specifically for touring purposes.
New promotional photos are being taken, and this means that a wider range of stuff will be circulating for the website and the like.
I have a lot more to tell, but I've got to get out of here. There is stacks of work that needs to be done for the new EP.
One more quick note, though..... Protocol WILL be going "Public" in a few months, meaning we will be actively accepting new artists. Look for more info in that field soon.
Thanks as always. I love you guys,
-Brian
---
May 7, 2002 Entry 21
Im back from a short absence. How are you?
I have a totally different look now! You wouldn't believe it. We're getting some new promos back soon, but trust me, the new look is good. It's different from the preppy, less-casual style that I've had since I started out as Twilight's Moon.
I've got some new songs that are just coming along really great, and they, too, are different. First of all, they are mastered SO much more than the other stuff ever was, and they really have a sound-wall effect that's coming in greatly. We've also been playing more with effects and whatnot to create some really great sounding stuff. As it stands, I have dozens of songs in some level of production, from completely finished to halfway-at-best. I have another 50 that are just concepts, but I look forward to doing something with them.
I actually have new promos, but no one has uploaded them yet, and they haven't been retouched or anything, but at least look for that as a taste of everything coming up to be posted soon.
The promotion budget just increased ten-fold, so look for some serious, serious promotional stuff to be going on this summer and into the fall. I'm sure you guys will like what I'm leading up to.
Anyway, I only have a minute. I could talk for hours, but I really need to get back to some new demos. I'll be in touch!
Love to you all,
-Brian
---
April 22, 2002 Entry 20
Another (small) milestone. Twenty freakin' entries!
Good stuff! I still can't believe it! This also marks a YEAR AND A HALF of the Journal (Well, on April 20th). And four and a half years of the website. At the year five mark, I don't know what I'm going to do. That's just insane.... it doesn't feel like that long. But anyway....
Looks like another promotion.... stationmp3.com. They're going to serve as my new mp3.com-type-of affiliate that is going to take care of the uploading of all new music, and they're going to distribute it everywhere else from there. It's scary that I'm getting big enough that I, nor anyone I know, has to even upload the music anymore. There's someone else who has it in front of them: how cool. That makes it easier for Trevor and everyone, too.
I have allergies, and they are killing me! Thank god I didn't plan anything for this week, that would really suck. I have a tiny concert April 30, and then I'm good until another private concert until June. Count on live shows BY July! I will let you know FAR in advance the planned dates. The concerts are going to be great! No acoustic shows... Im going to have a band to work with. That's a change, wouldn't you agree?
What else? Yes, promo photos! Hours and hours of photo work on Saturday, I cant wait until midweek so I can check out the proofs and get some NEW stuff up. If you had any idea how many people tell me how much they hate the newly-dubbed "prayerpic," you would scream. My eyes are still messed up from all the flashes and bright-lights. Anyway.....
I could talk for days, but I need to get to bed. I'm sure this thing is riddled with spelling errors. Oh well. I'll see you all by this summer! Keep cool,
B4N
=Brian
---
April 3, 2002 Entry 19
Could it actually be that I'm getting better?!
This, to the best of my knowledge (I'm not scrolling down!) is the fastest entry I've ever made (What? 2 weeks? Not bad, come on).
"Close to Me" is done. But you would figure it sure as hell would be, wouldn't you? Oh well, promo copies have shipped, and now, one week in advance, we're shipping consumer copies, too. I'm in billboard and ICE magazines briefly this week. A blurb about the record. How cool.
OK, here's what happened. Starting Wednesday, I relaxed. I worked on a new song, which I love to death (it's my favorite song I've ever done!). On Thursday, I went on a 35 mile biking expedition that was invigorating and relaxing at the same time. For the rest of the time, I relaxed. It was great. It really was. The only regret I have is that I have to go back to recording and working and all. I can say, though, that from now on, on my weekends, and when I have time, I'm going to try to relax more. That should be healthy.
Anyway, the new album is coming along a *little* slow, but it's great, really. It's good stuff. It's NOT going to be Greatest Hits, I dont think... by name, at least. It's going to have the same track list. Also, I think we're going to add a bonus disc of outtakes and live songs and stuff like that, stuff that will not be as good as the core disc, but be interesting nonetheless.
Hmm, what else? Nothing, I suppose. What I can say is that I'm happier than I've been in a long time, really. Even if I do get tired of being me sometimes, I wouldn't trade it ever, in the end. So, that's a good thing...
Healthily (that's not a word),
-Brian
---
March 20, 2002 Entry 18
Im sorry for another absence:
More work... work, work, work, work.
In the midst of working on finishing the EP out April 9th (my birthday), and just working on the Hits album. I'm so tired, I can't lie, and Im really ready for a break, which means for the first time in my career, Im going to push the release date of a disc BACK instead of forward which has been the case the last five times. I just can't continue to take on the workload, and as I become more and more obsessive with perfection and acheiving the best I can, I exhaust and spread myself too thin. Its painfully honest.
The point is, Im going to keep recording, but at my pace, so that I can rehabilitate myself to the point where the album itself can sound happy and not exhausted and so that I can be ready to perform when it comes out.
I thank everyone that has already wished me well. It truly means a lot to me that people really care about my state of being.
Thanks again for all of your continued support. It means everything to me.
Love,
-Brian
---
---
January 28, 2002 Entry 17
Five damn years:
I just can't believe it!
In the midst of working on so many new things (most notably the "moon" disc), I'm taking a few hours to just reflect on what the last five years have done to me. They've certainly changed my life. There have been ups... and there have definetly been downs, but I wouldn't trade what I have dedicated the last five years of my life to for anything in the world. Period.
I was just talking to some old friends, and this amazing anniversary has certainly been reason enough to contact some people I haven't heard from in years. It's very odd to look back on all of this and see that for solace in music I've sacrificed happiness, love, security, and health at times, but in the end, I can't complain: it's all been worth it.
Whew, I guess I don't have much to say, but I hope that the last five albums I've made and these last five years have meant something to you; they've certainly meant a lot to me.
With love,
-Brian
---
January 18, 2002 Entry 16
Evening,
Changes, changes, changes!
As always, my schedule is packed, but I've made several recent life changes. I'm on a serious, serious health kick, and I'm just trying to exercise and stay healthy all across the board, as life is going to be getting a LOT more packed in the near future, but its all for the better.
I know I certainly feel better now than I have making Slope, ClockWork, or Emergency Exit. I'm learning more and more to pace myself and to respect the fact that I don't want to come down with a chronic illness from working 21 hours a day on a record like I have tended to in the past. Its "Summer 2002," because I'm not limiting myself to a date. I don't want to meet a deadline.
Geez, what else? Well, for those who don't pay attention, the next album is going to be "Greatest Hits," and for good reason: its going to have the most successful singles and best songs from all the Twilight's Moon albums combined onto one "2 records on one disc," extremely long album. Its going to have the greatest hits album, and the new album on one.
Im recording now, and I just spent all of last week covering The Cure's "Close to Me," which is supposed to be one of the surprises for the record. Guess I blew that. Oh well, you'll like it. Lots of other stuff, too. It's going to be THE record we promote, and we still haven't given up on Emergency Exit, of course. Its just that the Greatest Hits will combine all the better elements of Emergency Exit into a collection with other great songs, so it makes it a bit hard to have the same respect for the songs that AREN'T as good, you know?
Anyway, enough rambling for this month (I should respond more, I know!)
Thank you all for your love, care, and support. You are great,
Love,
-Brian
---
December 18, 2001 Entry 15
Wow!
Whew! Things need to slow down! I'm doing great, though!
There is a lot going on. We're still promoting "Anyway" as a single, and when it starts going down on the Progressive Charts we're going to further promote "Psychatrist," and then decide what we've got going for a third single. It's likely going to be "Off the Record" but I have absolutely no idea what the B-side would be.
OK, In terms of concerts, Im going to do a few promotionals and maybe a few public, and then debate a small tour, but I don't think I have the energy to do a tour. I'm feeling great, but you all know that concerts take a LOT out of me, and I doubt that I could complete a tour.
HOWEVER, those that missed the "Slope" tour or the "ClockWork" shows (you know, the ones I didn't cancel, haha) that like the live show or those that haven't yet seen it may soon have a chance to because I have been debating the idea of releasing an acoustic live disc. There are several approaches I could take to this: Just me and vocals (I.E. just one guitar OR piano OR whatever), or I could have a band with me (which also has possibilities).
Anyway, Ive also JUST started demos of the next disc, but don't expect it out until late 2002 (at earliest). Some things I CAN say:
Its likely going to be a double album
Its going to likely have a LOT of famous guest stars
Its going to have some EE tracks redone.
Thats all I know for now. Also, I will be putting up demos and remixes for download and I will have an exclusive member page. We will see in the coming months.
Anyway, thats all for now. I've got a lot to do tonite, and I should already be asleep.
Ill talk to you soon! HAPPY HOLIDAYS!
Peace and love to all,
-Brian
---
---
November 27, 2001 Entry 14
Wow!
Emergency Exit hits the streets today! Its sold REALLY well in Pre-orders, I can't believe it!
We haven't even been promoting the album, just the first two singles, "Anyway," and "I'm not your psychiatrist." Youll be able to download them from the site ASAP (or maybe you already can from the song page. I don't know.)
The songs have both been in the Top 40 on mp3.com! They're really soaring in the charts, especially for being in relatively competitive genres.
If you would like to order your copy of EE, you can use the pre-order form, as it will still get to the Distribution company within 4 hours, and they mail out next day! We're accepting Credit Cards now too, I believe, so you can pay with PayPal!
And how could forget that EE makes the BEST stocking stuffer?!
I know you cannot believe it, but I'm already playing around with a few demos for another album. Someone stop me! I should slow down, and I will, but then again, my longest gap between albums has been from CW to EE, so it's obvious that I'm taking more time to complete a record now, and it's definetly true. Yes, despite the fact that I said I would NOT, Im thinking about doing some shows in support of EE. I realize how integral live shows are to record sales, so maybe Ill give in. Maybe.
The new songs are really happy! Maybe it's because I am happy. Life is so great now. The album is doing good, I'm more than satisfied with the album, and I'm just doing everything happy without sedatives! Unbelievable. Oh yeah, love is a very good thing now, too.
So, give everyone you know some love! I love you!
-Brian
---
---
---
October 20, 2001 Entry 13
Hey,
I still can't believe the news. What a hell of a world we live in. Well, I hope they catch the bastards that have been spreading anthrax virus, and I hope they catch bin Laden, bring him back to the US, and then have a pay-per-view special, and anyone that has been personally touched by the attacks (lost a family member, their business, or for whatever other official reason), will get to beat or otherwise mutilate him until its all said and done, and then let the cast of "Fraiser," actually make him meet his final demise (not to say that I like "Fraiser," per se, but more that they lost the creator of the show, didn't they?)
Anyway, the new album is almost complete! Yes! Ive been meeting every day with my managers and working out several plans. We did the last of the album shots and promo photos, and I am completely exhausted from it all. Also, Ive been talking as often as possible to my wonderful Johana, who will be doing the album work. I should have a new banner using one of the promo photos soon. We've got some standard candid shots, some meditating shots (I love those for some reason), and some of me in forests (Yes, forests). So, it should be a good change from the standards that we've all been seeing since November(?) or earlier. I can't stand that ClockWork shot (on the cover page), the plain green one that is everywhere now. I cringe at it. Luckily, I got a little more artistic lisence.
Thanks to all of you that have ordered the promo pack. It should ship by early the second week of November.
Thank you again for your continued support. This album is going to go somewhere, and its thanks to all of you.
I love you!
-Brian
---
---
September 10, 2001 Entry 12
Good evening!
Ive been talking, writing, thinking, and planning with so many people for Emergency Exit. It looks like it just may be released on November 27, 2001, afterall. Some fairly larger labels have expressed interest, and I think this will be Protocol's final platform up. We shall see.
Otherwise, it will be out mid-next year. Whichever one works. I cannot STAND having to wait so long! Im ready to just get this thing out, but I've been re-recording tracks by the dozen. I have over 2,000 recorded tracks that I've done MYSELF! Its been frustrating, but this album is a healing in a very big way for me.... what Im healing from, I do not know.
Ill be in touch. Keep your requests coming.
B4N,
-Brian
---
August 3, 2001 Entry 11
Hey.
Wow! Its been a year. This is the one year anniversary of Slope! Can you believe it?
Im an working working working on the new album! Got some good secret participations going on. Also, I doubt more and more that it will be avaliable by November. Its just not possible with all of what I want to do with it. I am starting to come to terms with how long this (professional) record is going to take me. I will still have those samples up for you all though. Couldnt make you wait THAT long.
but anyway, its LATE and I have to be up early tomorrow for rehersals. So, I will talk to you soon! I promise, it wont be 3 months until I write again!
B4N,
-Brian
---
May 6, 2001 Entry 10
Hey.
Ok. Im back.
Still crazy, and it looks like I have 9 songs demoed for EE. The album will be out November 27, 2001. This weekend is my last for a month where I have to spend all of my time demoing, and then I get a short, much-needed break. Then I record! Ack!
I will have sound samples on the site by September, and you will be able to start ordering copies November 15. (Sad how far I have to plan ahead).
Otherwise, all is normal.
Look for a new interview ASAP.
B4N,
-Brian
---
April 2, 2001 Entry 09
Kiddies!
Looks like its been another month since Ive written! Sorry!
I got over 1,000 fan letters in the last month, so ive been trying to answer all of those, and still have a life. I only have a minute, so Ill type as quick as I can!
Ive got 5 songs written for the fifth album, and Ill be recording all summer. The supposed release date is November 27, 2001, but who knows anymore.
There will be a bunch-and-a-half of guest performers, and you will be suprised by some of them. Anyway.. Ive got to go meet with my producer. Ill be in touch with you all!
Also, I have been asked to host the Go-Go's release party for their new album, "God Bless the Go-Go's." Wow! So, its going down on May 15... More info soon.
B4N,
-Brian
---
March 26, 2001 Entry 09
God, its been a REALLY long time,
Sorry for not writing for so long. Another 5 weeks! Damn it goes by fast!
The fifth album is now underway. Im working on a whole bunch of different things right now. Kate Pierson (the wonderous singer from the B-52's) will be working on it, as well as others.
Its going to be very, very amazing and I will be recording it in Long Island NY and in California, with overdubs done in Branson MO. Ive been demoing and recording CASS versions of songs for the past few weeks. Starting April 7, I will be having a short series of concerts that will be the "ClockWork," tour, and then Ill be done with it. I will resume for the fifth with a full tour. Look for more info on that soon.
Some of you may have seen that the website got removed. Damn it! Sorry about that. My ISP took it away for some stupid reason and put it back on when they heard from my lawyer... Oh well.
Keep in touch. Next entry when I have more time, I will answer some long-standing questions.
B4N,
-Brian
---
February 21, 2001 Entry 08
Hi Again,
Whew! Sorry I haven't written in 5 weeks. Ive been really, really busy, and I didn't even have time to make a short entry.
I finally have decided to start thinking about the fifth album. Its been 8 months since Ive written a song! Geez!
Ive been very tired lately, due to my schedule.
Ive been doing 20 things, and trying to do 40 others. I just dont have the time to do enough.
I will start writing and demoing some songs later this weekend.
Ive been preparing for some shows (IE a brief tour).
Thats all for now. I hope to talk to you all soon. Stay healthy.
B4N,
-Brian
---
January 15, 2001 Entry 07
'Ello,
Nice weekend thus far. I get tomorrow off! Oh yeah.
ClockWork is 8 DAYS AWAY!!!!!!!!!! Oh my!
While Im on the subject of whatever subject Im on, I would like to ask a favor of everyone. Someone is, on eBay, selling my friend, Jane Wiedlin's used towel. Now, aside from the fact that its disgusting to being with, he just got the towel at a concert of hers, and sold it the next day! Email him as nasty a letter as you like: EvilKevin@aol.com
Thanks in advance!
Ok... for the rest of the entry Im going to answer some questions:
"Are you playing live this year at all?"
I sure hope so! Stay tuned for information on possible live dates.
"Who is 'Day Glow?'"
DayGlo is a good friend of mine. Ive known her since September, and she, too is a musician. Im assuming you saw her on the Guestbook?
"Why are you on the Folk charts? You aren't Folk!"
Right you are, in a way. Im not Folk as much as I am Pop/Rock, however I consider Folk to be a pretty broad category, so I can fit in there somewhere. And besides, if I can top the folk Charts, then so be it!
"What is your peak position on the Pop Charts?"
18
"Can I obtain an autograph?"
See entry #1
---
January 09, 2001 Entry 06

Howdee,
How are you? Whew! Long week, and its only Tuesday!

I spoke with Barry Wood, who has my final tape, so Ill be getting the masters back next week!

Lets see... so much to talk about in the 6 minutes I have. I got into a new sport: Paintball. Anyone that hasn't tried it should, although it hurts like you would not believe when you get hit and you arent suspecting it! Ack!
Im marketing ClockWork very strongly. Some places may not see it until late March (No, really!), but Im determined to have this baby in every store made. Did you see the T-Shirts you can buy?! I know, I love them too! I wore mine around town today and got a couple of responses (Oh, you like Twilights Moon?!) I wish I could've seen my own reaction. Scary, indeed.

Plus, while I was in my Target yesterday, these people started following me. I got a little freaked, so I tried to lose them with my manager in an aisle. They persued me, actually running towards me. It was scary, because I didn't know what they wanted, but I knew they knew who I was... Oh well.
Im going to begin thinking about the fifth album in February, but dont count on its release until early 2002. This baby is gonna be perfect!
I had a nasty cold over the last two weeks, and I couldnt talk, let alone sing.. it was pretty sad. Plus, I was feverish for a week straight, so I was really uncomfortable.

I would like everyone to remember that ClockWork makes a great Presidents Day Present! Get seven, one for each day of the week!

Ok. I really took 15 minutes. Ill make another entry soon... promise!
Much love,
-Brian (Paintball Wizard)

PS I have a bruise on my thigh where I got shot
PSS I was in the top 20 on the POP & ROCK CHARTS, and I TOPPED the FOLK CHARTS!!!! WOW!!!!!!!! Thank you all.
PSSS Thank you for swamping the eurasiaroguepr@hotmail.com fan mail address. Ive read all your letters. I appreciate everything.
PSSSS Ok. Now Im just trying to PISSSS you off. Nite!
---
December 25, 2000 Entry 05
Evening,
Merry Christmas! I hope your Christmas was as wonderful as mine.
I got a lot of great stuff, and I had a wonderful day. I can't believe its already 11:00! Geez!
Anyway, it has been a good year for Protocol Records, but personally it has not. I'm running for 2001 with open arms!
Look for me to tour to promote CW, and look for a new album in LATE 2001, or early 2002. I want it to be very professional, and I'm going to have an Executive Producer in to watch over me.
We don't really have too much of a budget to Promote CW, so a LOT of word-of-mouth advertisement would be much appreciated! If you want me to mail you out a radio sampler to give to your local radio station, let Trevor know. I'd be very thankful.
I have a full-on vacation 'till the 2nd of January! I'm going to relax, and work with all the new equipment I have.
ClockWork is finished, although I'm scrambling to have it printed. I've got a few investors coming in to oversee the production of the Jackets, so I hope to be in time. That's one of the only things I really have to do over the break...
I hope that you and all of your family have happy holidays and stay safe. Preorders of ClockWork will be avaliable soon! Promise!
B4N
Love,
Brian (The CW Master)
---
December 9, 2000 Entry 04
Hey! Ok. I've been working really hard in the last 10 days.
Right now, I'm working to settle a headache. It's a lot better than it was, but it's still bothering me.
Anyway... ClockWork's release date looms closer every day. I'm getting ready, and I guarantee I will be taking release orders. Still, I'm not as prepared as I could be. Oh well. I've got a really good mastering job going on.
I still haven't put up ANY Christmas lights or tree! I've been too busy to think about anything. I know I need to get to it SOON. My brother comes home for Christmas Thursday, so it'll be fun to see him.
Keep in touch everyone. I'll let you know about tour dates as soon as I get them.
B4N,
-Brian
---
November 30, 2000 Entry 03
Hey,
I've been working some more on ClockWork. I had a huge rack of Promo Photos taken for it recently, and I just got them back. I'm really satisfied with a couple of them, and they will make the album.
I think CW is gonna have 12 songs, but 13 is possible, too. I'm not sure at this point. Its merely process of elimination.
I've got a ton of people that want to interview and work with me. Expect to see some reviews for CW, and You shall see me listed in the upcoming releases section of Billboard, and in Ice Magazine. It should be fun.
I am enjoying a break this weekend, with nothing planned but working with the Manager of Protocol Records, Trevor, on some ideas for the new album. The sound quality without being mastered is already better than Slope, so it should be pretty good.
You can visit the official site at: www.twilightsmoon.com now. Awesome! It's really getting there..
B4N,
-Brian
---
Nov. 20, 2000 Entry 02
Hello!
Ok. I finally am making another diary entry. Sorry for my delay! Things have been crazy! I've been REALLY busy with everything. ClockWork is DONE! Thats it! Done! I think everyone is really gonna like it. It's got really strong material. I would like to start taking advance orders December 15. Unfortunately, there will be no "by-Christmas," delivery. Oh well.
Also, I'm starting to work out plans for my amazing West Coast Spring 2001 tour (although it may get put off), and my Summer 2000 East Coast Tour (possibly with Borders, too).
Because I just, in general, need a break, I'm going to be producing a few albums in 2001. However, aside from that, I'm taking some time off, and I'll be working on the new album in the spring. I would like to hope for a late-2001 release, but again, I always beat something like that by a few months. So long as I'm happy, and not too tired, I can continue. I'll take a break when I need one.
I would like to post the track list for the new album soon. it's got two written with My uncle, of the South Carolina band Uncle Mingo. Aside from that, most of the songs are mine. It isn't as weird as Slope.
Keep your questions coming. I'm still honoring autograph requests, too. However, I will not be signing as many CWs as I did Slope. I just don't have the time.
B4N (Bye for now),
-BL
---
Oct. 20, 2000 Entry 01
Hello, everyone!
Whats up? Ok, I've decided to make this little Journal because a lot of people have been asking me questions, and I haven't been able to respond to them all, so I figured I could do it in by answering everything in one post, plus deliver all the news and latest information without having to go and have it all put on the main page.
The fourth album, ClockWork, is coming along wonderfully. I have nine songs completed, and already on my master. I am working on at least four more, I think. Most of the songs have vocals, and are mainstream pop, which should appeal to nearly everyone who listens to it.
Protocol Records doesn't really have a budget to produce a single, or to promote too much, so I'm hoping for some good word of mouth! If you would like to help promote ClockWork (you can start now, and even with Slope), there will be something in it for you: -After you have sold two cds, you will receive a free CD (Slope. ClockWork coming soon), as well as some other bonus -You earn 10% of every CD sold by you.
Also, if you would like to help promote, etc. you may be able to work something out with my coorespondent (I'm in the process of getting a new fan mail manager, and I can't answer it myself, so you'll have to work with me. However, I promise all your messages will get to me!
Lotsa' people have been asking if they can get an autographed photo. Unfortunately, I don't have any photos on-hand, although I just took some promo's for the fourth album, and they should be ready soon. Still, you can get your CD autographed, or I can autograph a couple of 3x5 cards for you. Send a SASE to: Protocol Records 240 Ironshire South Laurel, Md 20724 USA
And if you would like to leave a telephone message for me (someone will give it to me, but I won't be able to respond. If you leave your email address, I'll be sure to get back to you) at: 301-483-7957
Thank you for your continued support. You can email me at: Eurasiaroguepr@hotmail.com
Thanks!
Love,
-Brian
---